3 years ago
POLL: Who is Ireland's favourite Star Wars character?
May the Force be with you...
You know when you're going into a shop and the automatic doors open, do you ever wave your hand and pretend you opened them with a Jedi mind trick?
Yep, us too. Every time.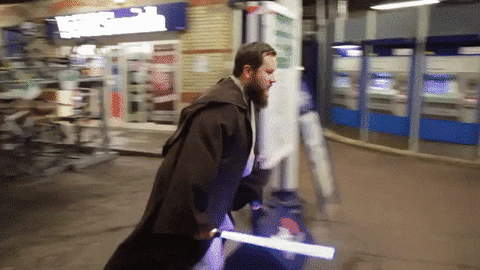 As you can tell, we're pretty massive Star Wars fans here at JOE and so, to celebrate the release of one of the most-anticipated films of 2017, Rogue One: A Star Wars Story, we want to find out, once and for all, who is Ireland's favourite ever Star Wars character.
There are 100s of Star Wars characters to choose from in the galaxy far, far away, but just like a Padawan-training summer camp taking place down at the local park on Coruscant, spaces are limited.
And so, after extensive discussions, arguments and heated lightsaber battles in the office, we've whittled it down to 16 stupendous Star Wars characters; goodies, baddies and those who are, shall we say, a little mixed up...

The first round of Ireland's biggest ever Star Wars poll kicks off today, all you have to do is cast your vote in the tweet below.
Make sure to keep a close eye on the JOE Twitter account as, each day, we'll be revealing another selection of Star Wars heroes and villains for you to choose from, with Ireland's favourite Star Wars character being revealed next week.
And don't worry, Jar Jar Binks is nowhere to be seen.
So, what are you waiting for? May the Vote be with you...
Calling #StarWars fans!

The search for your #FavouriteStarWarsCharacter is about to start!

16 choices battling for top spot in the galaxy! pic.twitter.com/lC7C6x6Ew6

— JOE.ie (@JOEdotie) December 9, 2016
Our #StarWars quarter-finals will consist of 4 groups of 4.

Here comes the 1st group!

It's time to pick your #FavouriteStarWarsCharacter pic.twitter.com/1oLweVQlwa

— JOE.ie (@JOEdotie) December 9, 2016
Pick your #FavouriteStarWarsCharacter

QUARTERFINAL 1 - Top 2 qualify.

May the Vote be with you! #StarWars

— JOE.ie (@JOEdotie) December 9, 2016
If, like us, you cannot wait for the release of Rogue One: a Star Wars Story, fill your time by watching the terrific trailer right here...
Clip via Star Wars
Rogue One: A Star Wars Story is released in Irish cinemas on 15 December.