3 years ago
Shaken, not stirred: 8 cocktails for the heatwave season
Lazy summer days.
With the good weather, the long evenings and the gut-wrenching thirst we all probably have lately, there is no better time to experiment with a few alcoholic drinks to sweeten up the summer sunshine.
So here are 8 of the best cocktails to throw together to stretch out with on warm evenings.
1. Long Island Ice Tea
With a bit of everything, this is the drink to sip for an eclectic mix of liquers. Topped with cola, it goes down like a beer, easy.
Mix the ingredients and garnish with a lemon slice. Can't get more straightforward than that. Serves 2.
Ingredients
30ml Triple Sec
30ml Vodka
30ml White rum
30ml Gin
30ml Tequila
30ml Lemon Juice
Sugar syrup
Top up with Cola
2. Bloody Mary
The ingredients for this one are a bit more exotic and you might find yourself rummaging in a few presses to get everything but it's a fun drink with a serious kick and it's a bit of a laugh throwing it together so here's how to DIY it.
Ingredients
60ml Vodka
100ml Tomato Juice
10ml Lemon Juice
5 dashes orchestershire sauce
3 dashes Tabasco
2 pinches Black pepper
1 pinch of Celery salt
3. The Old Fashioned
A drink with a bit of work to it, it's one for the bourbon and whiskey connoisseurs out there. Slowly mix the Bourbon and Sugar syrup together into a paste, stirring constantly.
When all the Bourbon is added, add the whiskey and Lemon Juice.
Ingredients
45ml Bourbon
30ml Whiskey
2 dashes Sugar syrup
3 dashes of Lemon Juice
4. Vodka Martini
If it's good enough for 007 than it's good enough for us. One for all the ages, here's how to put together James Bond's favourite drink.
Add the ingredients together and shake, don't stir.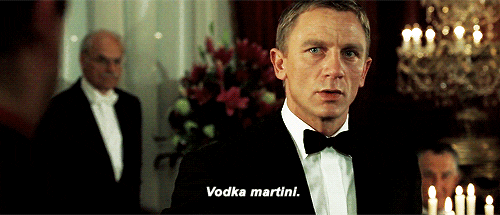 Ingredients
75ml Vodka
8ml Martini Extra Dry
5. Whiskey Sour
A hard-hitting drink for a strong stomach, a whiskey sour is simple to make.
Ingredients
60ml Bourbon
22ml Lemon Juice
30ml Sugar Syrup
1/2 Egg White
Shake all the ingredients together in a glass-filled container and strain into an ice-filled glass.
6. Black Russian
If you are into your coffee then this cocktail is the one for you. A simple blend of coffee and vodka swirling in a ice-filled glass, this is a great cool-down drink for the summer evenings.
Ingredients
60 ml Vodka
22ml coffee liquer
7. Mojito
A classic drink that is as refreshing as it is simple and tasty. Mix the ingredients together and garnish with a lime slice.
12 Fresh Mint leaves
60ml White Rum
30ml Lemon Juice
22ml Sugar Syrup
Top up with Soda water.
8. Guinness Cocktail
This Guinness Cocktail is a new invention created by the master brewers themselves. We haven't tried it yet but it's definitely on the to do list. Add all the ingredients together with a generous amount of ice and enjoy!
Ingredients
35ml Rye Whiskey
2 dashes of Cocktail ditters
10ml Lemon juice
5ml Spiced pear syrup
10ml Cinnamon syrup
50ml Guinness West Indies Porter
Want to try a cocktail made with our Guinness West Indies Porter? #BeerofMore --- http://t.co/VPjOAZ06RC https://t.co/YoQUlG4lhI

— Guinness Ireland (@GuinnessIreland) June 26, 2015
Recipes via Diffords Guide