Steven Gerrard: The Love/Hate affair with Liverpool's greatest ever player
Paddy McKenna - Stevie G, save all your hat-tricks for me
If you type 'Liverpool Everton Gerrard' into Google the auto-prompt spits out 'hat trick'.
I was at Anfield in March 2012 when Liverpool throttled Everton 3-0 and Gerrard, the glutton, scored them all.
He's scored far too many goals against Everton but he saved his one and only hat-trick for my dad and I to witness in the flesh. Sound.
Gerrard: "My favourite game at Anfield would be when I scored a hat trick against Everton after all the stick I've taken from Bluenoses."

— Tony Barrett (@TonyBarrett) May 14, 2015
Afterwards, as we slunk out of Anfield, no longer worried about identifying ourselves as renegade Everton fans in the Liverpool end, we consoled ourselves with assertions about how bad they actually were outside their two superstars.
"You take Gerrard and Suarez out of that team and they wouldn't beat Sligo Rovers." As a lifelong Bit O' Red fan, that's my Dad's usual barometer for bog-standard mediocrity.
It was true enough though, and Liverpool, first without Suarez and now, finally, without Gerrard, will struggle to raise themselves again to that standard. That's what I'm banking on anyway.
So long Stevie G, Everton won't miss you and that's the biggest compliment they can pay.
Tony Cuddihy - He always looked like he'd left the oven on
Gerrard admits himself that he struggled to impose himself on games after he made his debut against Blackburn in 1998.
I remember him coming on for Vegard Heggem and seeing him in subsequent matches, playing primarily as a right-back or defensive midfielder, assuming he'd play a few games, go on loan to Middlesbrough and never be heard of again.
Wrong.
Advertisement
By the time he'd scored this absolute screamer against Manchester United in 2001...
...he was already on his way to the PFA Young Player of the Year award and three trophies at the age of just 20.
Phenomenal stuff. Behind every great Liverpool goalscorer - from Fowler to Owen to Torres to Suarez - was Anfield's true hero, a man who channelled the best qualities of Roy Keane, Paul Scholes, Patrick Vieira, Frank Lampard, David Beckham and the incomparable Mark Draper.
Favourite moments? Olympiakos. Milan. The 4-1 win over United at Old Trafford. All the hits.
But what probably I'll remember most is that furrowed brow and the look of a man who just remembered he'd left the oven on back at home.
Conor Heneghan - Good riddance Stevie G, be sure to kiss the camera on your way out
My fear when Steven Gerrard announced his intention to leave Liverpool was that my abiding memory of him would be the sloppy kisses on the Sky camera lens over at the corner of Old Trafford populated by visiting Liverpool fans.
Then, 38 seconds at Anfield in March changed all that.
As a Manchester United fan, it was hard not to be smugly satisfied after such an undignified exit from his last ever Liverpool v Manchester United clash, a fixture that he had such a seismic impact on throughout his career.
It's what rivalry is all about. Yes, I cheered when I saw him leave the field at Anfield, but at the same time, every time he played against United, he was the one Liverpool player (along with Torres in his peak years) that I feared the most. He was that good.
As is the case with Gary Neville's status amongst football supporters, home fans love the things about their icon that the opposition fans hate.
Liverpool fans must have loved when he kissed the camera to celebrate scoring against United or when he put in a crunching tackle against Everton; one-club men with the ability of Gerrard are a dying breed and Anfield will miss him dearly when he's gone.
Advertisement
I won't.
Joe Harrington - He was the inspiration for one of the best nights of my life
Cork city on May 25 in 2005; that was one of the best nights of my life and the reason for that was Steven Gerrard.
I was in the Bishopstown Bar at 6:30pm that evening waiting for the Champions League Final between my beloved Liverpool and AC Milan to get underway.
The place was packed to the rafters, there were people everywhere. I was surrounded by Reds fans and ABLs (Anyone but Liverpool) or Manchester United fans as they're also known. They wrote us off, we believed, the atmosphere was perfect.
Fast forward to 8:45pm and the atmosphere was horrible. AC Milan 3-0 up and United fans, my friends, were screaming and laughing in my face, I was heartbroken and I had no comeback, none, nothing, I was done.
They decided to leave the pub to go get pizza so I was on my own when the second half got underway and they still weren't back by the 54th minute when this happened.
Steven Gerrard scoring a header that Mexican legend Jared Borghetti would be proud of, that wasn't normal and what happened after wasn't normal either.
My friends reappeared on the 65th minute and I'll never forget the look on their faces. I have never seen disbelief like it, and I don't know what overcame me but I just screamed at them, the kind of scream that hurts your throat, I was out of control with emotion.
We all know what happened in the match and when Dudek saved from Shevchenko, I hugged every Liverpool fan I could get near and I screamed even louder than before in celebration.
After the game, we all headed for The Wash on Washington Street where we danced on the bar, we ended up in Rafter's Nightclub where red Aftershock was our tipple in honour of Liverpool, some logic right.
The best moment of all was standing shoulder-to-shoulder with adopted scousers on the fountain on Grand Parade singing You'll Never Walk Alone. It was so special.
I didn't want to go home, I didn't want it to end, but the night was perfect is so many ways and Steven Gerrard inspired the whole thing.
Advertisement
Liverpool wouldn't have won that game without him, he was the key, he was the catalyst, he'd done it before in games and he did it again after but that was the best. Great times.
Paul Moore - A faded great that still wants the spotlight. Your Hollywood passes are perfect for LA
Rational Manchester United fans (like myself) will happily say that they really dislike Steven Gerrard. We do. Very few will admit that they also admire and respect him. We do.
Only the great players get vehemently booed by the supporters of their fiercest rivals. That's just how bizarre football logic works.
The treatment that Scholes got in Anfield was equivalent to what Gerrard received at Old Trafford, tit-for-tat between rival fans. No quarter given and none expected.
What makes players like Gerrard special is that they thrive in these pressurised and red-hot cauldrons.
My first abiding memory of him was his exceptional performance in a comfortable 2-0 win for Liverpool in March '01.
Roy Keane and Nicky Butt played in the middle of the park for United but Gerrard refused to be intimidated, his thuggish buzzcut was almost indicative of his steel, determination and desire to win at any costs.
He was sublime that day - scoring one and creating another for Fowler - and his performance set the benchmark for Liverpool during a dark era for Man United fans (against Liverpool), we couldn't buy a win against Houllier's Liverpool for years.
https://www.youtube.com/watch?v=87fPFvWTg0o
A team of Steven Gerrards, when he was at his physical peak, would be enough to make any team quiver in their boots. He was very, very good but he's definitely not leaving Anfield in the way that he started.
The Demba Ba slip could have happened to anyone - he won't be solely remembered for that - but the big issue for me from that match against Chelsea was just how easily an experienced player completely lost his head.
He was shooting from all angles, trying impossible passes, jumping into tackles and generally lacking the nous, guile or composure that was required.
Advertisement
It confirmed what I always felt about Gerrard; the passion, fire and talent are incredible, but he tries to hard to do everything.
Box-to-box running is a great quality to have as a midfielder but Stevie G was still playing like a 22-year old when he was 32.
If you're being very cruel then you could accuse him of being a jack of all trades and master of none in certain games.
One swallow does not make a summer though and it's harsh to beat Gerrard up too much when you consder Olympiakos, AC Milan and West Ham in 2006.
Still though, the Hollywood passes crept into his game and unlike Scholes/Pirlo/Xavi, his radar wasn't always 100%.
Henderson was growing in stature, Lucas' performances were improving and a changing of the guard was inevitable.
Something broke down behind the scenes at Liverpool between Rodgers and his captain. I'm convinced of this.
I don't know exactly what it was but Gerrard's exit has all the makings of a player that still feels like he should be in the starting XI.
Maybe that's what made him the player he was, an unshakeable belief in his own talent, but why couldn't he just park any issues or ego to one side and accept a substitute role with the club he loves so much?
I genuinely believe that Gerrard still has plenty to offer Liverpool but he's gone about leaving in the worst possible way.
Still, though, I'm glad to boo him on his way out because he was fantastic.
Eoghan Doherty – Thanks for the memories Stevie, I owe you.
Advertisement
Let me take you on a journey through time and space.
The day was Wednesday, 25 May. The year was 2005. Spirits were high and pants were clean (I think).
Just the day before, I'd finished my college exams for the year and I was finally off on my much-needed summer holidays.
I'd treated myself to a gargantuan fry for breakfast, I was finally going to see Star Wars Episode III: Revenge Of The Sith in the cinema on my own with an abundance of close friends, and my beloved Liverpool, led by my most favouritest footballer in the whole entire world ever, Steven Gerrard, were taking on the mighty AC Milan in the Champions League Final at the Atatürk Olympic Stadium in Istanbul, Turkey.
What a day.
The fry came with extra beans, the film wasn't as woefully shit as I had dreaded and then…
Then there was the match. The match. The Match.
The club I'd supported since I was six-year-old boy, led by the heroics of club captain Stevie G, staged the most remarkable sporting comeback I've ever witnessed.
That night I cried, I laughed, I jumped for joy, I hugged strangers, I kissed loved ones. I was so, so happy.
And, in my eyes, there was one man who had made it all possible.
One man who had single-handedly grabbed the team by the scruff of their collective neck in the Turkish dressing room and who had dragged the players back onto the pitch, put Liverpool up on the scoreboard, and etched magical memories straight into the mind of a young Red fan.
Nothing can take that away from me. Nothing.
Thanks Stevie. I owe you.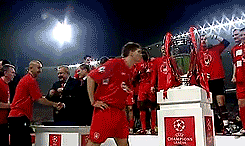 Advertisement
While you're here, check out the latest episode of #SportsJOElive where we had former UFC Flyweight Paddy Holohan alongside Irish rugby stars Mike McCarthy and Chris Henry on the couch!
Read more about: