8 years ago
Brendan Gleeson, Roy Keane and eight more of Ireland's finest male exports
To celebrate the release of new Irish film Calvary, JOE has compiled a list of great Irishmen who have made an incredible impact on the world...
Following on from their wickedly-funny work together on The Guard, director John Michael McDonagh has again cast Brendan Gleeson in the lead role of Calvary, this time as a good priest tormented by his small-town community, a group of people who seem intent on making his life a living hell.
Advertisement
The blackly comic drama features a very talented cast including Gleeson Junior Domhnall, Chris O'Dowd, Aidan Gillen, Pat Shortt, Dylan Moran, Killian Scott and the gorgeous Kelly Reilly.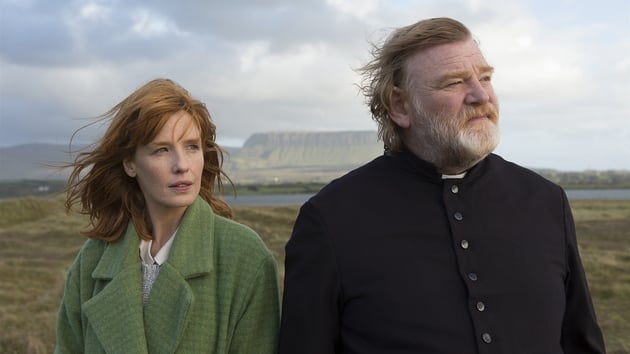 Brendan Gleeson
First things first, everyone's favourite furry film man Brendan Gleeson is the star of the critically-acclaimed Calvary and, over the years, his incredible performances have made him a much-loved cinema star all around the world. His best-known films include Braveheart, In Bruges, the Harry Potter films and, of course, his aforementioned previous crackin' collaboration with director John Michael McDonagh, The Guard.
Advertisement
Oh, and how could we forget? He also appears in every Leaving Cert Irish student's favourite film, Cáca Milis.
Chris O'Dowd
Gleeson's Calvary co-star Chris O'Dowd is the latest Irish comedic genius to take the world by storm. Probably best known for his role as Roy Trenneman in the Channel 4 comedy The IT Crowd, O'Dowd became a global star after awesomely appearing in the exceptionally-funny Bridesmaids opposite Kristen Wiig and Jon Hamm.
Advertisement
The man is, in this JOE's humble opinion, surely one of the funniest Irish men ever to have graced our screens. And everyone knows that JOE's opinion is always correct.
Conor McGregor
What a man. The brazen 25 year old has become a firm fan and JOE favourite in the UFC with his incredibly confident attitude and supreme fighting skills. Plus, the man has a great sense of humour with a fantastic fashion sense to boot...
Advertisement
Colin Farrell
The 37 year old cheeky Castleknock man has become one of Hollywood's most handsome hunks and his boyish Irish charm means he is adored by fans everywhere he goes. Some people actually tell JOE that we remind them of Colin Farrell. Some people are deluded though...
Here he is starring opposite the very lovely Clémence Poésy in one of JOE's favourite films, In Bruges...
Advertisement
Jack Reynor
Born in 1992, Jack Reynor is still just a young pup of a lad and yes, although we know he was born in the United Shtates, we're claiming him as Irish – when he was two he moved to Wicklow so that's good enough for us. You may not have heard of him just yet but he was incredible in the Irish film What Richard Did and he's just about to star in the latest Transformers film as Optimus Prime's and Mark Wahlberg's best buds.
The kid is going to be HUGE.
Killian Scott
Speaking of people who are going to be massive stars, Dublin actor Killian Scott has, through his brilliant performances in Calvary and the absolutely fantastic Irish crime drama Love/Hate, already made a huge name for himself to both fans of film and fizzy orange everywhere...
Aidan Gillen
Scott's excellent Love/Hate co-star Aidan Gillen first came to JOE's attention when he superbly starred as Tommy Carcetti in what is widely regarded as one of the greatest television show's of all time, The Wire.
Since then, the Dublin dynamo has shown off his wide range of skills as he has hosted Other Voices, was on the wrong end of Bane the beast in Christopher Nolan's The Dark Knight Rises, and is now possibly most well known as the scheming Littlefinger in Game Of Thrones...
https://www.youtube.com/watch?v=3fAOOJpaKaU
Roy Keane
Manchester United legend and now assistant manager of Ireland, Roy Keane is revered all around the world and regarded as one of the finest midfield players to ever grace a football pitch.
The controversial Corkonian now spends his time working in football punditry, reminding players from all across the globe that thy're nowhere near as good a player as he ever was.
Michael Fassbender
Like Reynor, we're proudly claiming Fassbender as an Irish legend, in spite of him being born in Germany. That's just south of Carlow, right? Right.
Fassbender, over the space of just a few years has absolutely skyrocketed into the stratosphere of super stardom following devastatingly brilliant performances in Hunger, Shame and, most recently, 12 Years A Slave.
Liam Neeson
Don't ever take this man's daughter. You'll live to regret it… well, actually, scratch that; you'll probably not live at all as he will find you, and he will kill you. Neeson is arguably Ireland's best known hardman and, even though he's now the world's favourite geriactioner, we reckon that he's best left alone.
Calvary is released in Irish cinemas on Friday 11 April 2014. You can watch the trailer here: