3 years ago
Summer parties are sorted because Aldi is selling a BBQ pizza oven for just €50
As you've probably guessed, we love pizza.
When summer rolls around and the weather gets a little bit warmer, we're all looking forward to chilling outside with a couple of drinks.
Advertisement
Staying at home when the sun is shining is pretty blissful and now it's going to be made even better with this BBQ pizza oven.
Just imagine popping open a few cans and making your pizza from scratch - time to show off them dough-rolling skills!.
The pizza oven is on sale Thursday 4 April and it comes in at €49.99 which is pretty handy.
Saying that, if you want to get your hands on one we'd be queuing up when Aldi opens on Thursday because these things sell like an ice cream on a sunny day.
Advertisement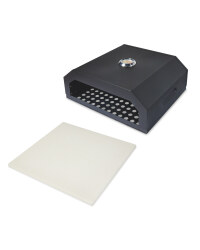 Aldi says of the oven: "If you're throwing an outdoor party this year make sure you have more than a few burgers and sausages to offer. This BBQ Pizza Oven will help you provide a sharing favourite for everyone to enjoy.
"Light and portable with two carry handles, this barbeque pizza oven can be used on gas, charcoal and masonry barbecues to cook pizzas of up to 12 inches in 10 minutes. Made of ceramic stone with an easy to clean stainless steel interior, this is a sure fire way to keep everyone happy."
Yes. Yes, it is.
Advertisement