5 months ago
Woman, 28, arrested after enrolling in high school as 17-year-old student
She could face five years in prison
Police have released a statement after a 28-year-old woman was arrested for allegedly enrolling into a high school by pretending to be 17.
Advertisement
Hahnville High School in Boutte, Los Angeles, received reports of a woman above the age of 18 attending the school during the 2022-2023 year, and an internal investigation as a result.
After they handed over their findings to authorities, police arrested 28-year-old Martha Jessenia Gutierrez-Serrano on May 29. Her mother, 46-year-old Marta Elizeth Serrano-Alvarado, was also arrested.
It is not clear how long Gutierrez-Serrano attended the school before her fake identity was discovered. In a post on Facebook, St Charles Parish Sheriff's Office revealed details of the arrest.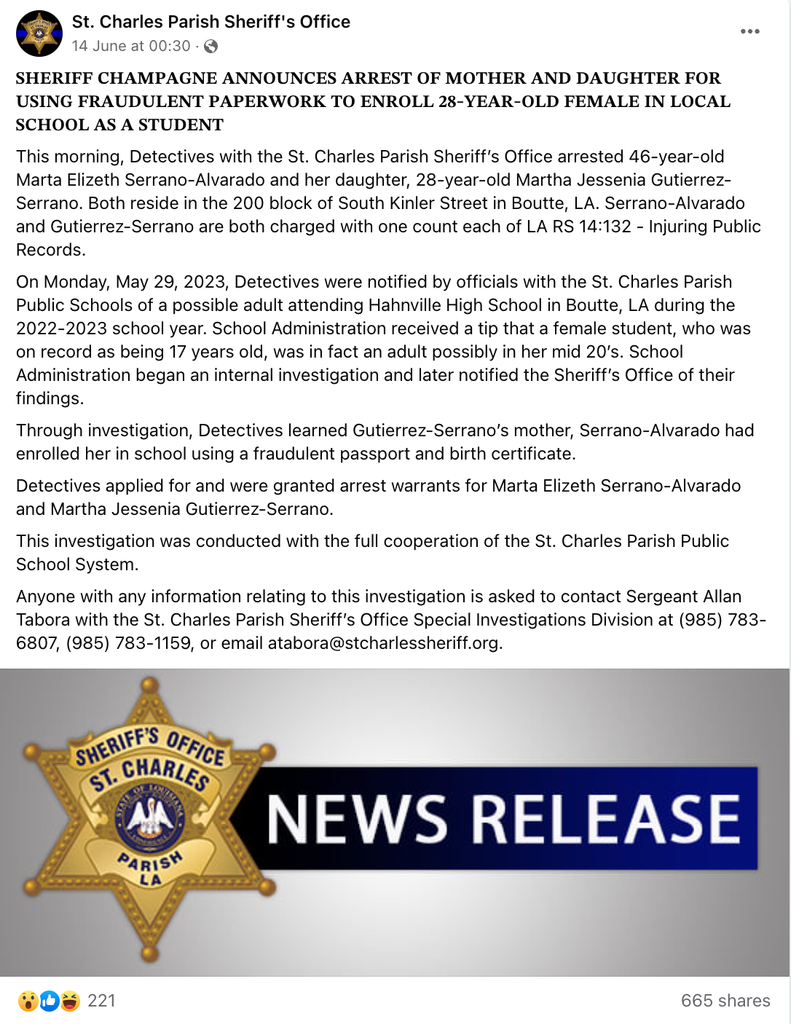 Advertisement
'Fraudulent passport and birth cert'
The police statement reads: "Through investigation [obtaining search warrants for the home of Gutierrez-Serrano and Serrano-Alvarado], Detectives learned Gutierrez-Serrano's mother, Serrano-Alvarado had enrolled her in school using a fraudulent passport and birth certificate.
"Detectives applied for and were granted arrest warrants for Marta Elizeth Serrano-Alvarado and Martha Jessenia Gutierrez-Serrano.

"This investigation was conducted with the full cooperation of the St. Charles Parish Public School System."
Serrano-Alvarado and Gutierrez-Serrano have both since been charged with one count each of LA RS 14:132 – Injuring Public Records, as per the police statement.
Advertisement
The pair could face up to five years behind bars, along with fines, if they are found guilty.
The real-life incident is not too far removed from the 1999 romantic comedy, Never Been Kissed, which starred Drew Barrymore as a 25-year-old reporter called Josie Geller who goes undercover for a story in an American high school.
Related articles:
Advertisement
---