7 years ago
VIDEO: JOE meets Lenny Abrahamson to talk drinking games, Funderland and his superb new film, Room
A true gentleman...
Having previously met acclaimed Irish director Lenny Abrahamson to discuss his excellent 2014 film, Frank, we jumped at the chance to chat to the terrific talent once more, this time about his superb adaptation of Emma Donoghue's best-selling novel, Room.
Advertisement
Room is released in Irish cinemas on 15 January and tells the powerful tale of a five-year old boy, Jack (Jacob Tremblay), and his Ma (a Golden Globe-winning Brie Larson), who are being held prisoner in a small room by a man known only as Old Nick.
It is a truly remarkable film.
Larson is excellent as the tortured mammy, but it is Tremblay who gives a stunning performance as the curious, captive child, and full credit has to be given to Abrahamson who has managed to create one of the best Irish films in years.
Advertisement
As well as inventing a new Oscars-related drinking game, we talked to the Dublin-born director about the justified hype surrounding the film, how he bribed convinced Irish author Emma Donoghue to let him make the film (HINT: Funderland plays a big role, as it does in all major life decisions), and how he deals with fans mixing his film Room up with Tommy Wiseau's cult classic, The Room.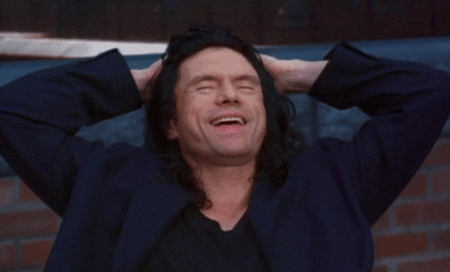 That's right, Tommy, laugh it up.
Advertisement
Plus, Lenny also... drum roll... wait for it... reveals his own favourite room.
Enjoy...
If you want to get up close and personal with the director yourself, the Irish Film Institute in Dublin is hosting a Q&A with Abrahamson following the opening night screening of Room at 6.10pm on 15 January.
Advertisement
For more information about tickets to that screening and Q&A at the IFI, click here.
In the meantime though, trust us when we say Room is one of the finest, most powerful Irish films in years. Check out the trailer here...
Clip via A24