7 years ago
VIDEO: JOE meets Michael B. Jordan, Tessa Thompson and Ryan Coogler, the stars and director of Creed
Whatever you do, DON'T CALL IT ROCKY VII.
Creed is released in Irish cinemas on 15 January and tells the terrific tale of Adonis Johnson Creed, the son of boxer Apollo Creed.
Advertisement
You remember Apollo Creed, right? He's the guy that used to punch Rocky Balboa in the face like this.
Superstar-in-the-making, Michael B. Jordan, is Adonis, the young boxer who has a lot to live up to, both in and out of the ring.
He graces the big screen alongside Hollywood legend Sylvester Stallone, who returns as his reluctant trainer, the iconic Italian Stallion.
Advertisement
Directed by the super-cool Ryan Coogler (Fruitvale Station and Marvel's Black Panther) and co-starring the very talented Tessa Thompson, Creed is already shaping up to be one of the best films of 2016, with critics, fans and random people we asked in the street, rightly heaping praise on the performances of Jordan, Thompson and the award-winning Stallone.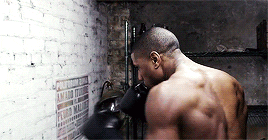 To celebrate the release of the film, we managed to sit down for a chat with Jordan, Thompson and director Coogler, to talk about working with the big man Sly Stallone, we asked them about featuring the fighting Irish in a possible Creed sequel, and we try to get them to admit that they've Googled some very embarrassing things.
Advertisement
We've all done that, right?
Anyway, here we are, packing a punch... with our not-so-hard-hitting questions.
Enjoy...
Michael B. Jordan
Advertisement
Ryan Coogler
Tessa Thompson
Advertisement
And you can check out the trailer for Creed right here. Seriously. Look. Here it is...
Clip via Warner Bros. Pictures
Creed is released in Irish cinemas on 15 January