8 years ago
Can you help? One half of Daft Punk went missing at Longitude Festival...
One half of Daft Punk has gone missing... a cardboard cutout of one member of Daft Punk that is.
We're still not sure if it's the Daft or the Punk bit though.
Advertisement
While enjoying the summer sun and the trancy tunes of last weekend's Longitude Festival, the "quite heavy, three month old and wooden" Daft Punk display went walkabouts as happy-go-lucky punters were busy losing themselves to dance.
The concerned owners over at Phantom 105.2 have kindly drafted up this excellent MISSING poster you see below: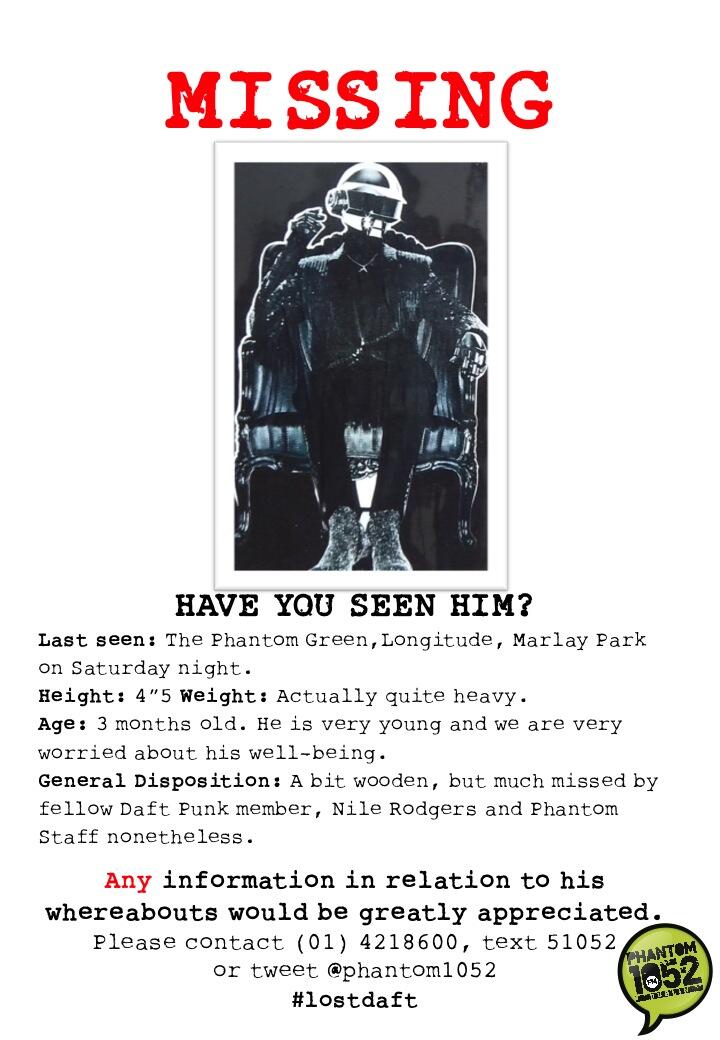 Advertisement
It's been 84 hours and counting so far people, so the poor lad is most likely holed up in a student gaf and will soon be destined to lie abandoned under four dusty traffic cones and one of those Georgia Salpa FÁS bus-stop posters from 2006.
So please, if you've any info on the missing memorabilia, get in touch via Twitter, text 51052 or call (01) 4218600.
Hopefully the good folk over at Phantom will 'Get Lucky' and their missing member will be returned safe and sound.
We'll get our coat... and our helmet.
Advertisement