4 years ago
The beauty of Longitude - a festival that caters to a lot of people, and outrages everyone else
It's almost as if the target audience for a festival aimed towards teenagers and young adults isn't men in their 30s...
The reaction to 2018's Longitude lineup was one that symbolised a clear shift in the public's perception of the well-known Marlay Park festival.
Advertisement
It had gone from being a fairly generic outdoor festival with a little bit of rap, a little bit of techno and dance music, and about 80% folk rock, indie rock, pop rock and such and such.
If we only go back to 2014, the headliners at the event were Massive Attack, Disclosure and Ben Howard. Compare that to last year's three headline acts of Travis Scott, J. Cole, Post Malone and Solange, and you've essentially done a complete 180 turn.
🔥🚨Delighted to announce CARDI B as the final headliner to this years #Longitude2019 lineup! 🚨🔥
☀️@AnneMarie & many more additions below!

➤ Tickets back on sale Friday 9:00am @iamCardiB pic.twitter.com/jquo8e0ykf

— Longitude Festival (@longitudefest) January 28, 2019
Advertisement
And understandably, fans of the 2014-era Longitude were fairly raging to see their needs ignored, for the sake of the taste of a few bloody kids. And when we say "fairly raging", we mean they lost their minds.
Every single Facebook comment on articles about the lineup read something along the lines of: "Who?", which could have simply been answered by, I don't know, listening to music sometimes.
People seemed absolutely outraged by the fact that Longitude's theme had shifted towards a different, more modern style of music. But it makes perfect sense for them to have done so. There was a massive gap in the market for a festival that catered to what young people wanted to hear, and Longitude stepped up when everybody else was too scared.
As it stands right now, nine songs on the Billboard top 20 were released by acts who either played Longitude in 2018, or are down to play it this year. Longitude, as a festival, is the only festival in Ireland that tries every year to keep up with what people in the country are listening to, and that's a good thing.
Advertisement
Sure you might not like the names on the lineup, or you might not even recognise them, but that doesn't mean that they shouldn't be there. These are the acts that people are listening to these days, whether you like it or not.
If you could sum the entire situation up with one Simpsons moment, as you can do with essentially everything, it would be this: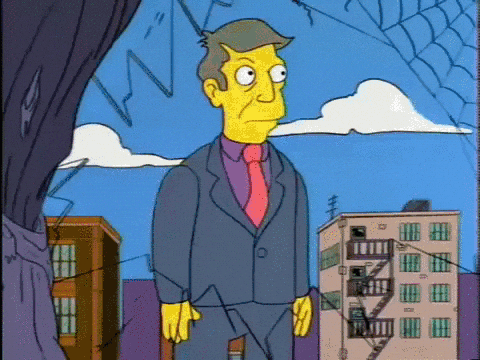 The only valid criticism of Longitude is that you may feel like a designated chaperone the second you enter the park, as the average age of attendees appears to be roughly 13. But if you can get past that fact, and the endless sea of shifting, then you're going to have a great time.
Advertisement
And although it essentially has just become a hip-hop festival, they still throw in a little bit of something for everyone, so you've no excuses... Last year had acts like Diplo, Alma and Sigrid, and this year's event has just added Anne-Marie to the lineup.
Electric Picnic (and every single radio station in the country) can have George Ezra and the likes. We'll take Cardi B, and we'll be more than happy to do so.