5 years ago
5 unorthodox job applications that can inspire you to raise your game
Brought to you by Jobs.ie.
These applicants definitely went above and beyond.
Advertisement
Writing a cover letter and CV can be a tricky thing to do. How are you meant to condense all your experience, abilities, skills and dreams into a couple of pages of a CV and an email?
Still, an inspired application is one way to ensure that you get noticed. We look at five applications that found a way to stand out from the crowd and examine the lessons you can learn from them.
1. Use humour to win over prospective employers
Advertisement
Image via She Was Only. 
Copywriter Jon Ryder decided to push the boat out when he used a fake box of painkillers named after himself as a job application. The leaflet inside promised that it was effective for the "short-term treatment of acute, moderate creative pain."
It added that "the active ingredients in Jon Ryder are creativity, originality and typing. Together, they form a powerful painkiller (analgesic) that works by eradicating stress that naturally occurs in agencies during busy times. it works by increasing the flow of ideas through the system."
It also revealed that "Drinking alcohol with Jon Ryder will not cause any adverse effects. Mixing Jon Ryder with moderate alcohol consumption after the end of the working day may improve effectiveness."
Advertisement
Takeaway: A bit of humour, invention and imagination can go a long way. With companies increasingly picking employees based on cultural fit, having a bit of fun with your application could help to get you noticed.
2. Let your personality shine through
This is a risky strategy but it might just pay off. The theory is that you let your quirks and individual personality stand out as a way to separate yourself from the crowd. So ditch the safety of the professional cover letter and go wild.
Advertisement
This cover letter for a job at Squarespace certainly tore up the rulebook with a mix of irreverence, humour and oodles of personality. We're not sure we'd recommend dropping an F-bomb in your cover letter but Squarespace COO Jesse Hertzberg did call it the best cover letter he's ever received!
Takeaway: Being polished and professional can be good but don't forget to showcase who you really are. Sometimes it's good to let your personality shine through.
3. Demonstrate your creativity
Robby Leonardi decided to go all out when it came to his CV. No, we're not talking about fancy fonts or clever spacing. The designer created an interactive resume that looks like an old-school video game, and it's pretty bloody great.
Advertisement
Not only does it tell an employer what he's trained in but it also showcases his talents in the process. 10 out of 10 for effort, Robby.
Takeaway: Use the abilities that set you apart from the competition to your advantage. Great at writing? Do a kickass cover letter. Brilliant in face-to-face situations? Go to professional events and network the hell out of it. Channel your talents in whatever way you can to get a prospective employer's attention.
4. Get an employer's attention with a statement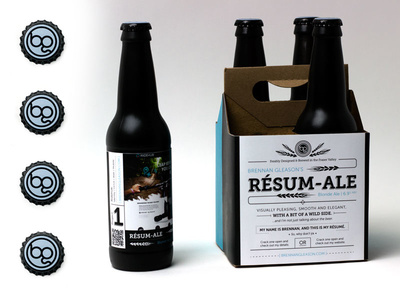 Image via Brennan Gleason.
Brennan Gleason took a chance when he submitted his "Resum-Ale" as an application. The web and graphic designer sent in four beers to the company, with labels that he designed and a specially-designed box that doubled up as his resume.
This stunt worked for Gleason, who got a job as a result. That's one way to showcase your talent and get yourself noticed.
Takeaway: Stunts or statements can go badly wrong but it is one way to grab a prospective employer's attention. Before you give it a go, think about what the stunt says and whether it demonstrates that you're the right person for a job.
5. Show don't tell
Show them that you're the person that they need, rather than just telling them how good you would be. Jeanne Hwang wanted to work for Pinterest so she created a Pinterest board that acted as a CV, announcing "this ain't your mama's resume!"
It was a novel way to show that she understood and loved their product. The Harvard Business School graduate wasn't hired by Pinterest but she did pick up a job in Pintics, which provides tools for Pinterest users.
Takeaway: Job applications are a chance to show people how passionate you are about a job. Be inventive when you tailor your CV and cover letter for each application and think about ways to wow them. It's the easiest way to show you know what they do and are passionate about the role.
Find your perfect job from the thousands available on Jobs.ie right now. You'll find vacancies from companies of all sizes and sectors in every part of Ireland.  Your next job is waiting for you. Start your job hunt now. 
Brought to you by Jobs.ie.