4 years ago
Quit to Fit Week 9: Remembering and bargaining
*In partnership with NiQuitin.
We're so close!
Advertisement
This really is the home stretch now. Eight weeks have come and gone and now we're into the penultimate week of our Quit to Fit challenge.
Woo hoo!
What to expect?
If everything has gone to plan up till now, you've already started to forget what it's like to be a smoker. Our life expert Raul Aparici says that you'll also forget the things you hated about the habit.
Advertisement
"So we start to remember fondly some of the things we really liked about it," he explains.
With this type of mindset, you run the risk of thinking "Maybe it wouldn't be so bad to have one cigarette?" If you're not careful, bargaining with yourself could lead you back to square one.
"Remember nostalgia makes it all look better than it was in reality," adds Raul.
Advertisement
It's a bit like hooking up with an ex. You think one last time won't hurt.
Although in fairness, your ex probably didn't contain half as many carcinogenic properties as the smokes. All the more reason to stay well away. It rarely works out.
The challenge
Obviously, nostalgia for cigarettes can lead you to a place you don't want to be. But for this week's challenge, we thought we'd let you indulge in some slightly less harmful reminiscing.
Advertisement
We're challenging you to play with a different toy or game from your childhood each day of the week. Whether it's something that was ever-present in your back garden or some mad expensive toy that your parents never let you have. Now you have an excuse to act like a 12-year-old. Just go easy, they mightn't be built to support a grownup.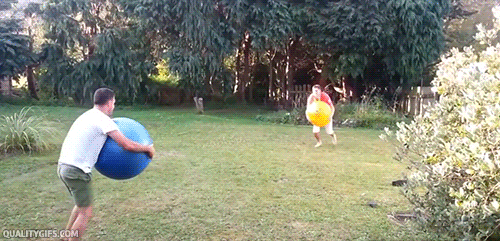 Follow our teams' progress on Twitter and Instagram using the hashtag #QuitToFit. Get involved and post your own updates using the hashtag.
NiQuitin is an unbeatable* way of quitting smoking. Try the NiQuitin 14mg patch for 24-hour craving control and the new NiQuitin Fresh Mint 2mg gum to hit sudden cravings hard with great flavour! NiQuitin 14mg Clear Patches and NiQuitin Fresh Mint 2mg gum are "stop smoking" aids that contain nicotine but you still require willpower. Always read the label. *provides significant improvements in quit rates compared to the patch alone.
*No purchase or use of NiQuitin is required.
Advertisement
T&Cs apply
*In partnership with NiQuitin.