6 months ago
'Sick and upset' vegan sends 'last warning' letter to neighbour over barbecue
'The smell of the meat you cook makes us feel sick.'
A vegan has issued a 'last warning' to their neighbour because of a dispute over a barbecue and the smell of cooking meat. The conflict started a few days ago, when the vegan living near Perth, Australia, sent a letter to her neighbour, Kylie, labelled: "IMPORTANT MESSAGE"
Advertisement
The letter from 'Sarah, Wayne & kids' read: "Hello neighbour, could you please shut your side window when cooking please. My family are vegan and the smell of the meat you cook makes us feel sick and upset.
"We would appreciate your understanding, thanks."
The letter then went viral after it was shared by Kylie on social and made its way on the Facebook group Hey Perth.
But it seems like it didn't have the desired effect, as Sarah felt the need to send her neighbour a follow-up letter with a much harsher tone following a 'coronation party' she had organised.
Advertisement
In this letter, she accused the neighbour of 'taking the mickey out of me' and being "downright rude."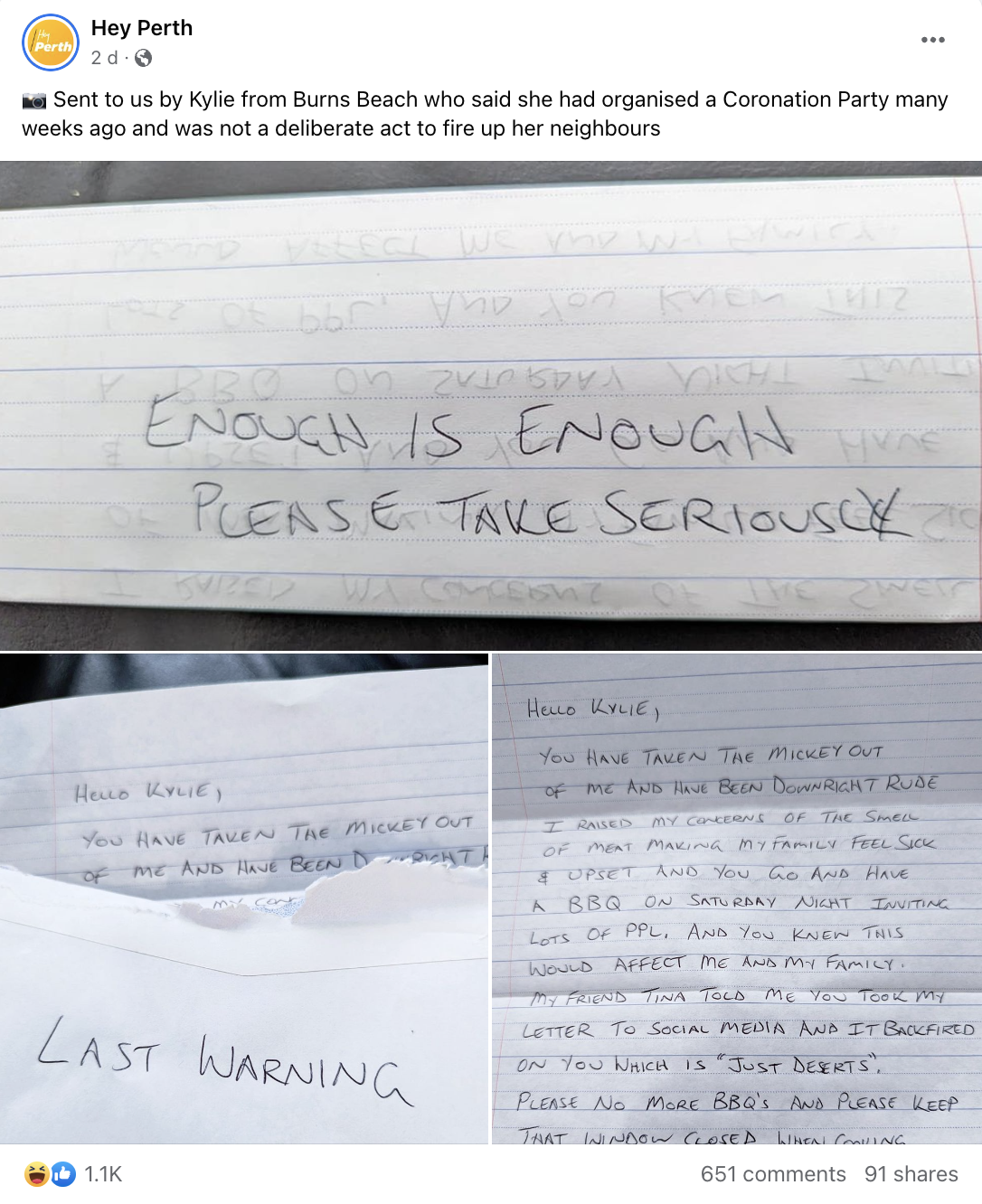 She continued: "I raised my concerns of the smell of meat making my family sick and upset and you go and have a BBQ on Saturday night, inviting lots of people and you knew this would affect me and my family."
Advertisement
"My friend Tina told me you took my letter to social media and it backfired on you which is 'just deserts'."
The letter finished: "Please no more BBQs and please keep that window closed when cooking otherwise I'm going to report you and go to social media too.
After this follow-up letter was shared on Facebook as well, the comments were flooded with people voicing their support for Kylie.
One person wrote: "Unfortunately that's not how the world works. Teach your kids about community and respecting differences but by all means, keep up your own choices.
Advertisement
"Your neighbours have every right to cook what they choose in their kitchen, you do not own air. You have every right to cook what you want in your kitchen and know you and your family understand that and respect it and others."
Another said: "Omg go away, its their house they can do what they want and eat what they want."
A third commented: "Kylie, keep cooking your meat and have your windows wide open and keep having those bbqs, who the hell do your neighbours think they are, no one has the right to tell someone else what to do in their house."
And many more suggested that the vegan family may need to move house if they smell bothered them so much, with one person even saying they should "move country" because "a barbecue is a huge tradition in Australian culture."
This article originally appeared JOE UK.
Advertisement
Related articles: