2 months ago
Woman who threw bra at Drake during concert has been contacted by Playboy
A Cinderella story for the rap age
Playboy has reached out to a woman who dazzled Drake after throwing her 36G bra onstage at his concert.
Advertisement
During a performance at Brooklyn's Barclays Center on Friday, as part of Drizzy and 21 Savage's 'It's All A Blur' tour, the woman, later identified as Veronica Correia, launched her undergarment on stage.
'Locate this woman immediately!'
Advertisement
In footage that went viral that night, Drake catches a woman's bra and rubs it in his face before looking at the tag.
"Damn, 36G?" he remarks, before adding: "Locate this woman immediately!"
On Sunday, the woman came forward: "It's me!" Veronica says in a video while also showing a clip of her throwing it.
"I threw it and he picked that shit up and said, "36G, find this girl immediately!'"
Advertisement
But the rapper wasn't the only one whose attention she got.
In a post on Instagram, Correia has revealed that Playboy recruiters have also got in touch.
Advertisement
The message from the iconic magazine's team reads: "Hi Veronica! You are gorgeous! I'm part of the Playboy recruitment team and we love your look.
"We recently launched a new invitation-only Playboy app that gives creators the opportunity to earn by monnetising exclusive content similar to the ones you're already posting on IG and TikTok.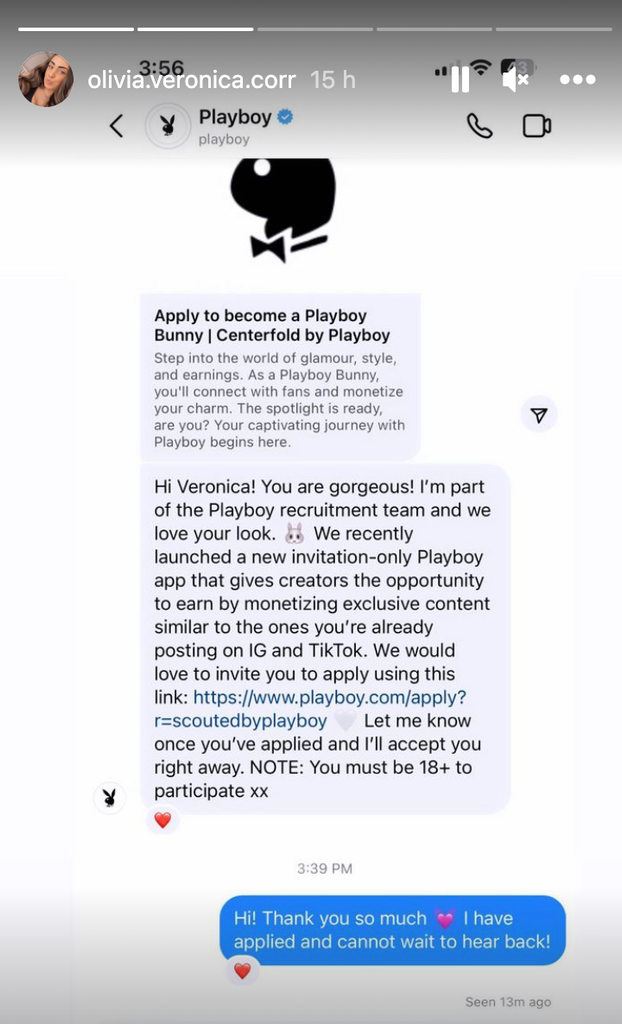 "We would love to invite you to apply. […] Let me know once you've applied and I'll accept right away. "NOTE: You must be 18+ to participate xx."
Correia responded saying she's "applied" and "cannot wait to hear back".
Advertisement
Related articles:
---