8 years ago
Hey fat face! JOE reviews Anchorman 2: The Legend Continues
You probably didn't even know that there was a brand new Anchorman film coming out did you, what with there being absolutely no publicity or promotion for the film in any way whatsoever...
The Channel 4 News Team didn't big up The Late Late Toy Show, Ron Burgundy didn't compliment the JOE staff on their beautiful beards, and Brick Tamland most certainly did not say that the recent JOE.ie Achor-fan Adventure Trail was "one of the more enjoyable promotions [he'd] ever attended."
Advertisement
Oh no wait, they did do all of those things. WHAMMY!
Breaking News fellow Anchor-fans, it's finally here – the hugely-anticipated sequel to the 2004 comedy classic Anchorman: The Legend Of Ron Burgundy was finally released this week, as Burgundy and his brilliant broadcasting buddies returned to our big screens in Anchorman 2: The Legend Continues.
With the 1970s now behind him, San Diego's (it's pronounced San Diaaago) moustachioed Anchorman Ron Burgundy (Will Ferrell) is living a life of bliss; the lucky divil got married to the love of his life Tits McGee Veronica Corningstone (Christina Applegate), had a shark-loving, piano playing son called Walter with her, and the Pleasure Town pair now spend their evenings hosting the news together.
What could possibly go wrong?
Advertisement
Everything it seems, as Ron's perfect world and salon-quality hair are turned upside down following the terrible news from legendary broadcaster Mack Harken (an even-grumpier-than-usual Harrison Ford) that Veronica is to be promoted to prime time television, while Burgundy is fired and left for dead.
Following a brief stint drunkenly compèring at San Diaaago's Sea World shows, Burgundy gets back on the newscasting wagon after receiving the offer of a lifetime to host America's first 24 hour News Channel, GNN.
All he needs to do is get the Channel 4 News Team-band back together. Cue the entrance of professional cat photographer Brian Fantana (Paul Rudd), a deceased Brick Tamland (Steve Carell), and chicken-of-the-cave connoisseur, Champ Kind (the other one).
Advertisement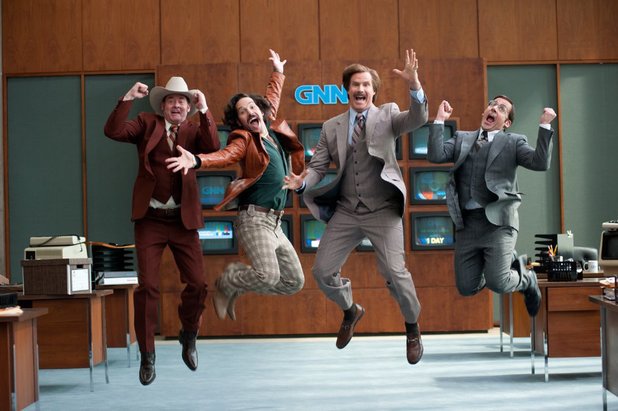 Like winning yourself a free Winning Streak scratch card fourteen times in row, JOE favourites Will Ferrell and director Adam McKay teaming up together to make movies is most definitely always a good thing. With Anchorman, Talladega Nights, Step Brothers and The Other Guys already under their belts, this devastatingly funny duo have delivered yet another very entertaining film for our enjoyment in the form of Ron's latest Anchorman adventures.
This time around, the two writers certainly don't shy away from recycling a number of their winning jokes from the 2004 film, with Ron still preparing for the news in his own special way - "Andre the Giant gave a surprisingly nimble foot-rub" - performing a spectacular jazz flute solo, this time while ice-skating, and there is, of course, the brilliant, cameo-packed, broadcasting brawl to end all brilliant, cameo-packed, broadcasting brawls.
At the same time, the influential comedy team have created a number of brand new, bizarrely funny sequences that are undoubtedly already on their way to becoming firm fan favourites.
Advertisement
New supporting characters add to proceedings, especially James Marsden's perfectly played Jack Lime and Greg Kinnear's horribly hair-styled Gary, as Ron's rival broadcaster and rival lover respectively, while future Anchorman-themed parties will be filled with the sound of people quoting "I can always guess how many jellybeans are in a jellybean jar, even if I'm wrong," and regularly exclaiming "by the hymen of Olivia Newton-John!"
                                         Olivia Newton-John's the one on the left... we think.
For all of the hits the films delivers there are a number of minor missteps, however, most noticeably the film's even-more-bloated-than-the-cast two hour running time, an over-reliance on the weirdness of Brick (Carell is a much bigger star now of course) and a strangely unfunny and duncical handling of an "oh my god there's a black woman in power" storyline involving Meagan Good's GNN boss Linda Jackson.
Advertisement
Thankfully though, it just feels right to have the Channel 4 News Team back together again as Ferrell, McKay and co. have delivered yet another classy installment of the surreal life and times of Mr Ron Burgundy. And, like the first Anchorman film, here at JOE we look forward to watching this film again and again and again and again... we think you get the idea.
So why not treat yourself to a little Afternoon Delight* this Christmas and go to see Anchorman 2: The Legend Continues, in cinemas now.
*By the way, for that "Afternoon Delight" reference to work you'd have to go and actually see the film in the afternoon, so just make sure you do that, thanks. Otherwise our joke is ruined.