3 years ago
The Big Reviewski Film Club - Calling all superfans for Ireland's biggest Harry Potter quiz
The Big Reviewski Big Film Quiz is back...
This is it. This is the moment you've been waiting for.
Advertisement
This is your chance to finally prove to everyone that you and your muggle friends are the BIGGEST HARRY POTTER FANS IN THE (WIZARDING) WORLD.
To celebrate the release of Fantastic Beasts: The Crimes Of Grindelwald in Irish cinemas, The Big Reviewski will be holding Ireland's biggest Harry Potter Superfan Quiz on Monday 12 November at 7pm (until 9 and 3/4pm) in Cineworld, Dublin, and we want you to be there.
This. Is. QUIZZITCH.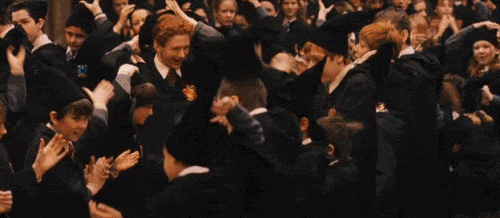 Advertisement
Look how happy they all are there with the hats and the throwing and the stuff. That could be you too.
Teams will consist of FOUR PEOPLE EACH (Everyone must be over 18 years of age), so make sure to invite your really competitive film-loving friends to kick some acromantula-sized ass on the night.
There'll be loads of cool prizes up for grabs and we'd love everyone to dress up and come along in their favourite Harry Potter fancy dress outfit too.
BUT WAIT THERE'S MORE! The winning team will also receive four free passes to see the brand new film, Fantastic Beasts: The Crimes Of Grindelwald.
Advertisement
That's right, you'll be the first people in the country to see the latest addition to the wizarding world.
So what are you waiting for? It's time for QUIZZITCH. Just answer the very simple question below to be in with a chance of coming along on the night...
Advertisement
Just before you start swotting up on your wizardly wisdom though, check out the magical trailer for Fantastic Beasts: The Crimes Of Grindelwald...
Clip via Warner Bros. UK
Fantastic Beasts: The Crimes Of Grindelwald, Certificate 12A, is in Irish cinemas from 16 November