8 months ago
Here's how much investment each county will receive under the National Broadband Plan
€314 million is going to Cork.
The Irish government formally signed the controversial National Broadband Plan contract at an event on Tuesday afternoon.
The contract has been shrouded in scandal, and former Minister for Communications Denis Naughten was forced to resign when it emerged that he had privately dined with David McCourt, one of the men behind Granahan McCourt/National Broadband Ireland, the consortium to whom the contract was eventually awarded.
The plan was originally estimated to cost €500 million, but it has since been confirmed that the cost to the public will be €3billion. The aim of the NBP is to provide high-speed broadband to 1.1 million people across 540,000 premises.
Taoiseach Leo Varadkar has shared a county-by-county breakdown of where funds from the National Broadband Plan will be allotted on social media. The figures reveal that €314 million will be spent in Cork, where the state will be intervening at 78,695 premises. This outlay is followed by Galway, where €153 million will be invested.
Other counties where more than €100million will be spent include Donegal (€128 million), Kerry (€107 million), Mayo (€145 million) and Tipperary (€118 million).
Carlow (€32m), Louth (€33m) and Longford (€34m) will see the least investment.
The county-by-county breakdown can be seen below: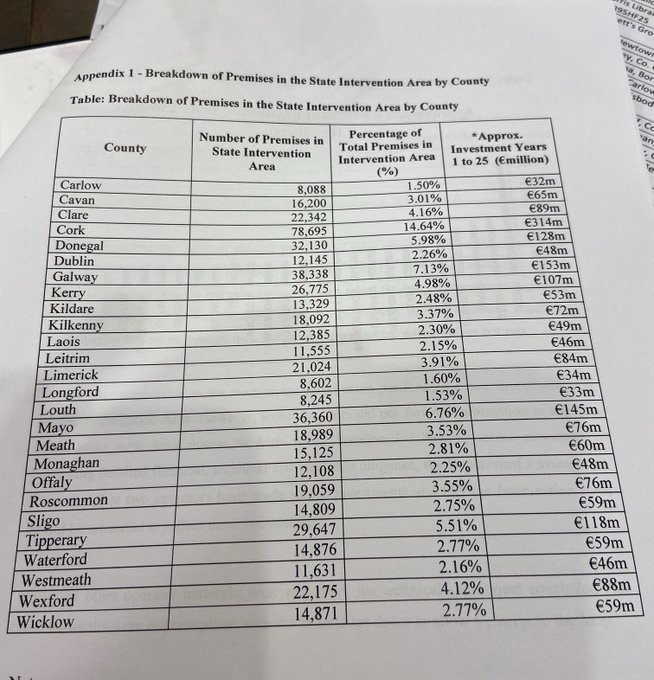 Fianna Fáil TD Jack Chambers has warned that commercial operators are already planning to legally challenge the plan.
"I have already been informed of complaints to the European Commission. Broadband operators have also already informed me that they intend challenging the intervention area for the plan, despite commission approval. That could lead to further delay or cost for this plan. Minister Bruton needs to urgently clarify what he will do if these challenges are successful," said Chambers.
"The signing of a contract for the National Broadband Plan should be a momentous day for rural Ireland. Instead, the cost overruns, delays and political hi-jinks which have dogged the plan will likely only leave a sour taste in taxpayers' mouths."
Earlier this year, communications company Eir claimed that it could have delivered a national broadband plan for less than €1billion.