3 months ago
Rachel Riley reacts to Mason Greenwood's Manchester United departure
She had previously said she would stop supporting United if Greenwood was allowed to return.
Manchester United fan and TV star Rachel Riley has reacted to the announcement that Mason Greenwood will be leaving Manchester United.
Advertisement
On Monday afternoon, United confirmed that after an internal investigation, Greenwood would be departing the club by mutual agreement.
This followed a six-month investigation by the club into Greenwood's conduct.
The striker had been suspended by the club since January 2022 in relation to material shared online.
Club statement.#MUFC

— Manchester United (@ManUtd) August 21, 2023
Advertisement
In October 2022, the 21-year-old was charged with attempted rape, controlling and coercive behaviour and assault, but these were dropped by the Crown Prosecution Service in February.
Before the outcome of United's own internal investigation was announced, Riley had said she would stop supporting the Red Devils if Greenwood was allowed to return to the club.
On Monday evening, she shared a statement from the charity Women's Aid.
Advertisement
The statement said that Greenwood's departure would be a "relief to many survivors of domestic and sexual abuse".
We know that the news from @ManUtd this afternoon, that Mason Greenwood will be moving on from the club, will be a relief to many survivors of abuse. This case has brought back painful memories for many people, with audio & photos of alleged abuse online. https://t.co/c2qarMtdCi

— Women's Aid (@womensaid) August 21, 2023
"Football is loved by so many people worldwide, and players are often idolised by fans, so the way that alleged domestic abuse cases are treated in clubs has a huge impact on public understanding about what is accepted and tolerated in society," they said.
Advertisement
"We have heard firsthand the impact this case and the related materials shared on social media have had on survivors of abuse, and while next steps are established following the outcome of Manchester United's internal investigation, this will happen away from centre stage of Old Trafford."
The charity added: "'Our approach at Women's Aid remains the same – we want to work collaboratively with football clubs and organisations to increase understanding and awareness of domestic abuse, as part of our ongoing football campaign.'
Sharing the post on X, Riley said it was a "great statement."
Great statement https://t.co/4lJyBH78uQ

— Rachel Riley MBE ? (@RachelRileyRR) August 21, 2023
Advertisement
The Countdown star also shared posts pointing out that Greenwood was not cleared of the charges against him, but that they were instead dropped by the CPS.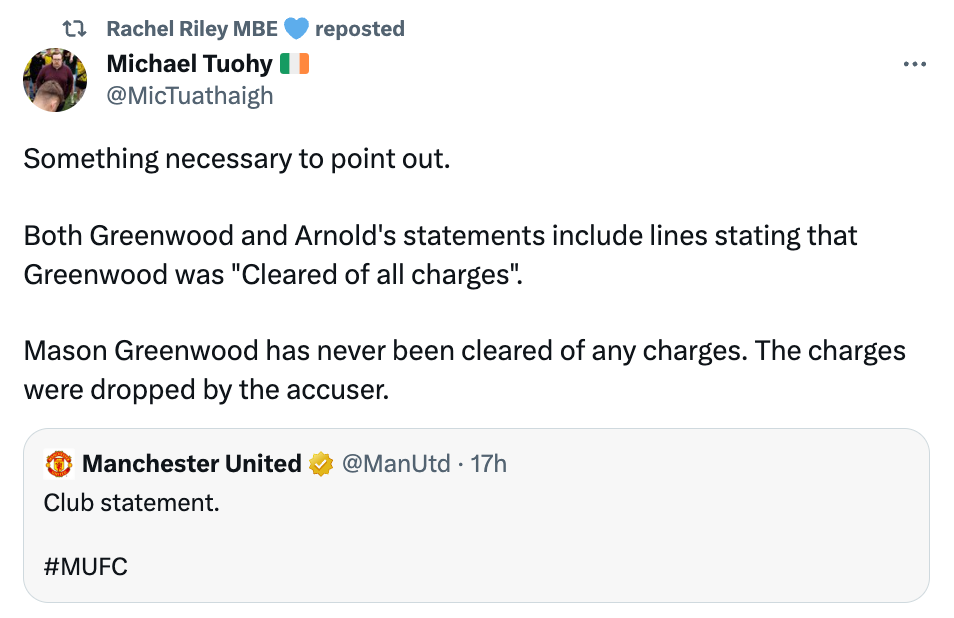 In his own statement, Greenwood incorrectly said he had been "cleared of all charges."
Related articles: