3 years ago
PICS: This is why people all over Ireland are wearing wedding dresses today
A brilliant idea for a brilliant cause...
Remember today's date, Wednesday 21 September, 2016, because today's the day you're likely to witness a very strange sight.
Hundreds of people, up and down the country, have taken to the streets of Irish towns, villages and cities, all kitted out in their... wedding dresses.
WEDDING DRESS WEDNESDAY #daretocare @todayfm

We're Doing It - Are You?

Text 'DARE' to 50300 - please RT pic.twitter.com/NILzLAm4k4

— Ian Dempsey (@IanDempsey) September 21, 2016
No, don't worry, this army of brides hasn't been sent by Jacinta to track you down and ask you why you jilted her at the altar for her second cousin Dymphna back in 2004.
*JOE can't stop sweating*
It's all part of Today FM's charity drive, Dare to Care.
Are you taking part in #WeddingDressWednesday? Send us pics! #daretocare https://t.co/3QDzM0OFVE

— Today FM (@TodayFM) September 21, 2016
The radio station has dared their listeners to dig out their wedding dresses, dust them off and do what they'd normally do on a Wednesday... except this time they're wearing a wedding-themed outfit to raise money for the Irish Cancer Society.
Welcome to #WeddingDressWednesday.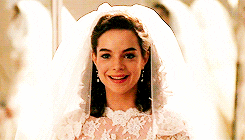 We just feel sorry for any real brides who are actually getting married today. Everyone who spots them will now think they're just doing it all for charity. Happiest day of their life.
The effervescent Shauna O'Reilly, from The Ian Dempsey Breakfast Show, came up with the excellent idea and can't believe the huge response they received.
She explained, "initially, I thought it would be brilliant to get one or two women to do it, but the reaction was just massive, it's completely blown me away. Irish women were obviously just waiting for an opportunity to get back into their wedding dresses!"
Going to work, getting the bus home & doing my shopping in a wedding dress for #DaretoCare https://t.co/KR5mJnW8hk pic.twitter.com/tIR9gCtEkr

— Shauna O'Reilly (@grandantor) September 17, 2016
The great event is not just limited to brides though.
For example, Stuart Lawlor and his friends will be taking to the streets of Wexford in some rather fetching bridesmaid dresses and over 300 students from Dunboyne's College of Further Information will be getting involved by dressing up as wedding guests.
Here are some of the brilliant people who have already kicked off their day in style...
She's only gone & Dunne(s) it! If you spot Lorraine at @dunnesstores Dundalk, be sure to grab a snap & donate#WeddingDressWednesday pic.twitter.com/HaWoJBTaT2

— Today FM (@TodayFM) September 21, 2016
Looking fab Courtney Cass @Pembrokehk @todayfm @IanDempsey @AntonSavageShow #DaretoCare #WeddingDressWednesday pic.twitter.com/vsqZP3VQ7W

— deirdre power (@deirdrepower1) September 21, 2016
Dolores in Mullingar is off to work in a crèche in her lovely #WeddingDressWednesday. Looking smashing! pic.twitter.com/r3um7dA4ne

— Today FM (@TodayFM) September 21, 2016
🙏☀️👰🎩 #WeddingDressWednesday at the Quad TODAY @ 11am for @IrishCancerSoc #GalwayCares @todayfm @AntonSavageShow @AlisonTodayFM @IanDempsey pic.twitter.com/HsgJ1Gaha7

— NUI Galway (@nuigalway) September 21, 2016
If you want to get involved - there are plenty more hours left in the day after all and we know you're just itching to squeeze back into your (or somebody else's) whiter than white wedding outfit - all you have to do is email your details to daretocare@todayfm.com and you'll be signed up immediately.
Or, if you'd rather just admire other people selflessly embarrass themselves on behalf of an incredibly worthy cause, you could simply donate to Dare to Care by clicking here and you can donate to Shauna's page by clicking here.
Congratulations to Shauna, Today FM and everyone involved, can we come to the after party?