6 years ago
Jack Reynor and Ben Wheatley on the all-action Free Fire, pretending not to be Irish and the joy in calling people a "f*uckin' spanner"
Now we're cookin'...
You have to hand it to Jack Reynor and Ben Wheatley; we're pretty sure they dodged a hail of bullets and deadly gunfire just to come and chat to us about their brand new shoot-'em-up film, Free Fire.
Advertisement
Now that's commitment.
Having chatted to the very charming Mr Reynor for his 2016 sleeper hit, Sing Street, we were delighted to catch up with him once more, while we were also super excited to meet director Ben Wheatley, the brilliantly bonkers brain behind some truly superb films in recent years, including Sightseers, High Rise and the oh-Jesus-I'm-sick-in-my-stomach Kill List.
His latest film, Free Fire, boasts an all-star cast including Reynor, Cillian Murphy, Cillian Murphy's cheekbones, Michael Smiley (go on Tyres!), the wonderful Brie Larson, Sharlto Copley and a beautifully bequiffed Armie Hammer among others, and tells the tale of an IRA gun deal gone wrong in Boston during the 1970s.
Advertisement
Basically, people with guns meet, people with guns argue, people with guns shoot each other. And that's it. For 90 minutes.
Brilliant.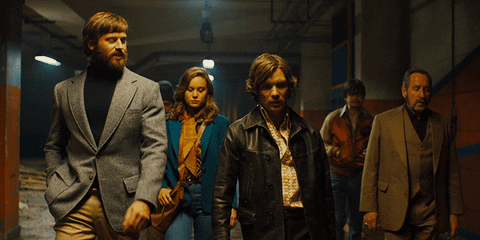 Thankfully the pair weren't packing heat when we caught up with them in Dublin, and opened up about how hard it is to be not Irish in a film full of Irish people, what it's like to Skype Armie Hammer when you're pretending to be sober and they've a great suggestion for what we should do with people who use their phone in the cinema.
Advertisement
Ready, aim, fire away...
Check out the funktastic, firing-on-all-cylinders trailer right here. It's Red Band by the way, so don't let your mammy catch you watching it...
Advertisement
Clip via A24
Free Fire shoots its way into Irish cinemas on 31 March