8 years ago
JOE's favourite manly movie moustaches
Ahead of the release of Anchorman 2: The Legend Continues, arguably one of the most anticipated film sequels of all time,  JOE and Club Orange have decided to pick out some of our favourite manly movie moustaches in honour of Ron Burgundy's own fantastic facial fur.
I mean, just look at the thing, it's absolutely glorious:
Advertisement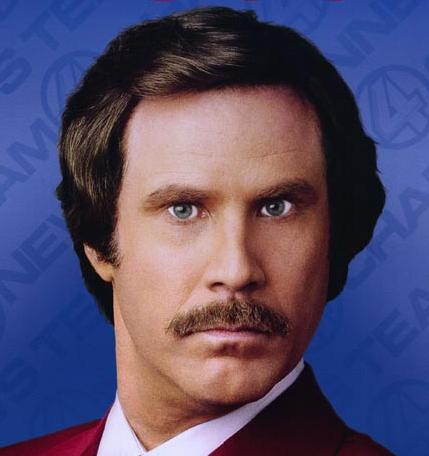 We've already brought you our highlights from the 2004 comedy classic Anchorman, as well as funny lady Kristen Wiig's best bits, and now it's the turn of our five favourite Bro Mos from the land of hairy Hollywood.
Remember fur fans, "there's such a thing as groomin', whether you're courtin' or not" and these guys have the art of stubble-sculpting down to a tee.
Tom Selleck as Peter Mitchell - Three Men And A Baby (1987)
Advertisement
No movie moustache montage is complete without the original Human Moustache himself, Mr Tom Selleck: Daniel Day-Lewis as Bill 'The Butcher' Cutting - Gangs Of New York (2002)
Advertisement
Irishman Day-Lewis produced such a formidable film fur for Martin Scorcese's 19th Century epic, that the moustache was even awarded its very own honourary Oscar... or not.
Samuel L. Jackson as Jules Winnfield - Pulp Fiction (1994)
Advertisement
This is one set of weapon-wielding whiskers you certainly do not want to get on the wrong side of. Say hello to the most badass, gun-totin-est, Bible verse-quotin' movie moustache around:
http://www.youtube.com/watch?v=FGiQsM2xmEg
Harry Shearer as Derek Smalls - This Is Spinal Tap (1984)
The Simpsons' star Shearer was the self-described "lukewarm water" in the greatest mockumentary rock band of all time, Spinal Tap. This magnificent mouth merkin goes all the way up to 11:
Advertisement
And finally, just to ensure that JOE is maintaining a certain level of gender equality in this love letter to luscious lip luggage, we've included a fine example from the female of the species too. We wouldn't all those hairy ladies out there to feel left out after all...
Shirley Henderson as Sally - Intermission (2003)
"Would you not get yourself a bit of Immac of somethin', huh? Get rid of that aul Ronnie you're cultivatin'..."
You can win tickets to the Anchorman 2: The Legend Continues premiere in Dublin on December 9th by clicking here for the Club Orange Facebook page. What are you waiting for?