5 years ago
COMPETITION: Calling all Star Wars fans! Win tickets to an amazing FORCE FRIDAY event in Dublin
May the Force (and lots of luck) be with you...
Attention all Jedi.
Advertisement
We have been given the opportunity to offer a limited number of tickets to an exclusive Force Friday II event.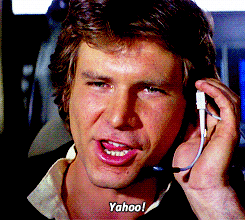 On Friday 1 September at 00:01am, to celebrate the launch of the greatest range of new Star Wars goodies available in the galaxy, there's a very cool, ticket-only event taking place at the Disney Store on Grafton Street, Dublin.
The store will be closed to the public, so the only way you can get in is by ticket only. Seriously, these things are more difficult to get your hands on than the secret location of the Rebel Alliance base.
Advertisement
On the night, the Disney Store will have exclusive giveaways, competitions and first-look product demos, so you could even come dressed as your favourite Star Wars character if you wanted.
We've already got our Princess Leia outfit ready, so you'll have to pick something different.
And REMEMBER, most importantly – if you've no ticket, there's NO WAY you're getting in, so here's what you have to do.
Advertisement
Simply answer the question below and May The Force Be With You...