2 years ago
Any Scrubs fans out there should really be listening to this podcast
Zach Braff and Donald Faison launched a Scrubs podcast last month, and it's absolutely brilliant.
When it was announced that Zach Braff (JD) and Donald Faison (Turk) were launching their Scrubs podcast Fake Doctors, Real Friends, fans of the classic show were buzzing.
Advertisement
And if there was any doubt whether the show would live up to expectations, they can officially be thrown in the bin.
Every episode sees Braff and Faison look at a particular episode of Scrubs (starting from the very first one). Naturally, the two have hilarious anecdotes from working on the show, and a chemistry that JD and Turk would be proud of.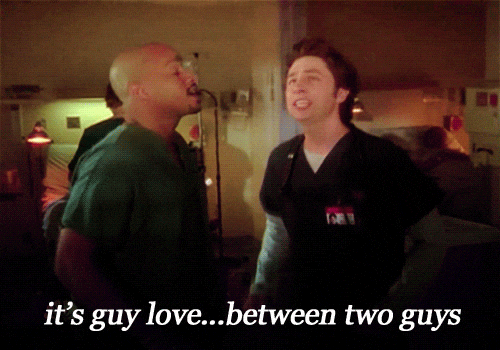 So far, the podcast has examined seven episodes, and had guest appearances from Bill Lawrence (creator of the show), Sarah Chalke (Elliot), John C McGinley (Dr Cox) and Judy Reyes (Carla).
Advertisement
Each guest has explained their story of how they got the job, with John C McGinley's being particularly brilliant.
He recalled the exact moment after his audition, saying: "I shut the door... I started driving home on the 101, I put Bruce on, it was blaring, and I was like 'I definitely got that, and if I didn't, the show sucks'".
With every episode of Scrubs now available on All4, we really recommend giving it a listen.
Oh, and the theme song is 10/10.
Advertisement
Fake Doctors, Real Friends is available to listen to wherever you listen to your podcasts.