Juicebox is your new sexual BBF
New app 'Juicebox' is here to answer all of your awkward questions about sex
Why turn to a mate for embarrassing sex advice when a hyperactive robot / team of teenage sexperts is just as good? Probably...
Juicebox is a new and anonymous app that let's you ask awkward, interesting or unusual questions about sex.
the designers say that it's intended to help improve its users sex lives and their general health.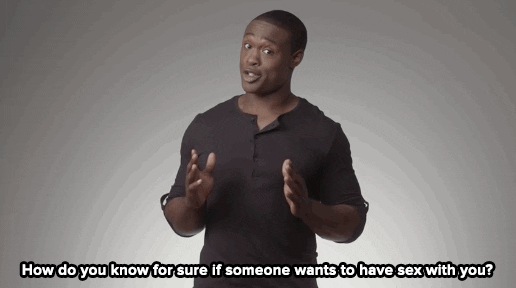 via Giphy / Mic
How does it work? After downloading the app, users can leave a comment/remark/question and a team of "sexperts" will respond in real time.  Users will also have the option to 'spill' or 'snoop' on the questions of others.
We can only imagine what other people are asking.
The app promises a swift response to any questions, even the prank ones, within 24 hours.
Advertisement
Brianna Rader, founder of Juicebox, describes the poor sex-education experiences which lead her to design and produce the app in a recent press release:
"It's illegal to teach comprehensive sex education [in Tennessee]. They only teach abstinence education in the public schools. I stayed there to attend the University of Tennessee for college, and I realized that all of my peers had had the same education that I did.
Take a look at its interface and design.
via Juicebox / Jordan Gold
While you're here...
Advertisement
Why not hit play on the video below to let funnyman Fred Cooke woo you with his sexy French accent, Dara Dynamite ditches the Speedos to become a Kingsman, Mayo band Flat Out put the woe of the All-Ireland Final behind them to perform the Magic Cover and Justine Stafford takes to the streets to find a date for the Debs.
We also caught up with the cast of Kingmsan: The Golden Circle – Taron Egerton and Mark Strong – as well as the stars of new Irish film Maze – Barry Ward and Nidge himself, Tom Vaughan-Lawlor (and his wonderful hat).
It's all jam-packed into this week's episode of The JOE Show, so what are you waiting for?
Check it out right here...
Read more about: