4 months ago
The countries that cheat most on Grand Theft Auto have been revealed
Anticipation is growing for official news about GTA VI
Grand Theft Auto is one of the biggest gaming franchises in the world and one of the most popular games ever, and the internet is currently awash with excitement and rumours about GTA VI.
Advertisement
The last installment in the franchise, GTA V, became the fastest-selling entertainment product in history and made $1bn in its first three days when it was released in 2013.
More than a decade on though and we still have no official word about when we can expect GTA VI, although we do know it's in development.
Recent reports have suggested that an official release date could be announced soon though.
With this in mind, car experts at Nationwide Vehicle Contracts have conducted a study to discover which countries are most excited for GTA VI – and the countries that cheat the most on the game.
Advertisement
The biggest cheaters? The United States. Saying that, New Zealand is close behind and Ireland [little old us] is in third place.
A huge 110,000 US gamers search for 'gta 5 cheat codes' per month, which is 33,142 in every 100,000 gamers searching for 'gta 5 cheat codes'.
Meanwhile a whopping 60,500 search for 'money glitch gta 5' every month, proving U.S. gamers are eager to find any shortcuts they can to excel as much as possible in the game. Along with search volumes, the research also analysed how many people purchase cheats from each country and the US came in seventh for purchasing the most GTA cheats, mods and hacks.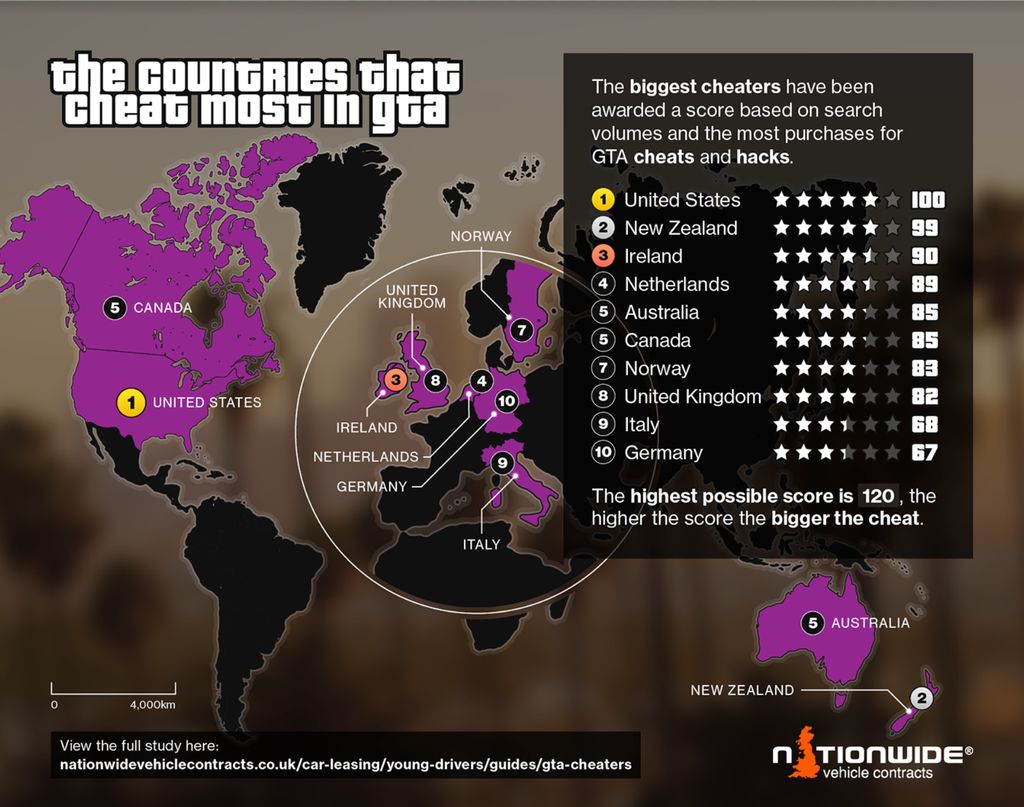 Advertisement
Irish searches for Grand Theft Auto
Second and third in the biggest cheaters on Grand Theft Auto are perhaps a bit more surprising though.
New Zealand ranked as the second biggest GTA cheats in the world, scoring an impressive 99 out of 120 in the index rankings. The research found that New Zealand's biggest search volume was for 'money glitch gta 5' with 1,000 searches per month, followed closely by 'gta 5 cheat codes' with 880 monthly searches.
Irish gamers' most popular cheat search is 'money glitch gta 5' with over 590 monthly searches, as well as being the second-highest purchasers for cheat codes – proving Ireland gamers are looking for a lot of GTA cheats.
Advertisement
In terms of the nations most excited for the game, Netherland gamers came out on top in the research, with a whopping 74,000 gamers searching for 'GTA 6' on average each month which is a huge 422 searches per 100,000 people.
With a massive 246,000 average monthly searches for 'GTA 6' the United Kingdom ranked as the second most excited for the new GTA. Germany followed closely behind as the third most excited country, with over 301,000 monthly searches for 'GTA 6', which works out as 362 searches per 100,000 people – it's clear gamers all over the world are eagerly waiting for the new addition.
Related articles:
---
Advertisement