4 months ago
Marvel fans did not take kindly to Michelle Rodriguez comment on the franchise
Fast and Furious is just 'like the MCU but with cars'
Fast and Furious star Michelle Rodriguez is being mocked after a clip resurfaced of her talking about the number of Marvel movies that have been made.
Advertisement
The actress, who has appeared in several of the 10 Fast films, was at ComicCon in 2022 to promote Dungeons & Dragons: Honour Among Thieves when she made the comment.
Rodriguez suggested that different movie studios should team up and merge their franchises for a bit of fun. Having suggested the Fast crew could race into a Transformers movie, she said:
"There's so many movies I'd like to see merge, like think about it, the world's your oyster."

"Where can you go? How many Marvel movies can you make? Like, come on guys, at some point we've got to get innovative with this."
Marvel fans didn't take the subtle dig on the chin and called her out given she stars in a long-running franchise herself.
Advertisement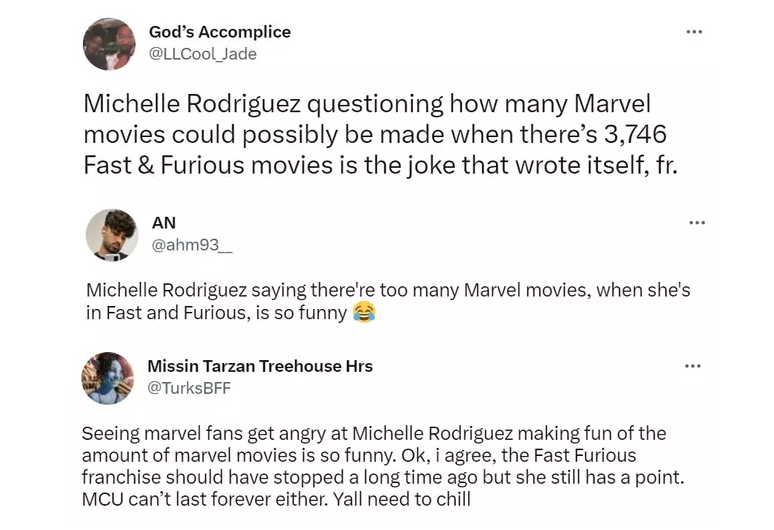 While MCU is more than a decade old, it has developed well beyond the big screen with a range of TV series as well.
According to a report by Unilad, one Marvel fans suggested Michelle Rodriguez has "no business coming at Marvel for making too many movies". Another pointed out the hypocritical nature of the comment: "One helluva glass house to be throwing stones in".
Another chimed in on that sentiment suggesting Fast and Furious was just "like the MCU but with cars". However, not everyone was going in on Rodriguez, with some movies fans pointing out that MUC "can't last forever".
Advertisement
There are no 10 Fast movies, with two more in the works, along with spin-off Hobbs and Shaw featuring Dwayne Johnson and Jason Statham, with other movies and another spin-off in the pipeline.
Related articles:
---
Advertisement